Education Not about "Profitable Returns" at World Human Rights Forum
---
December 1, 2014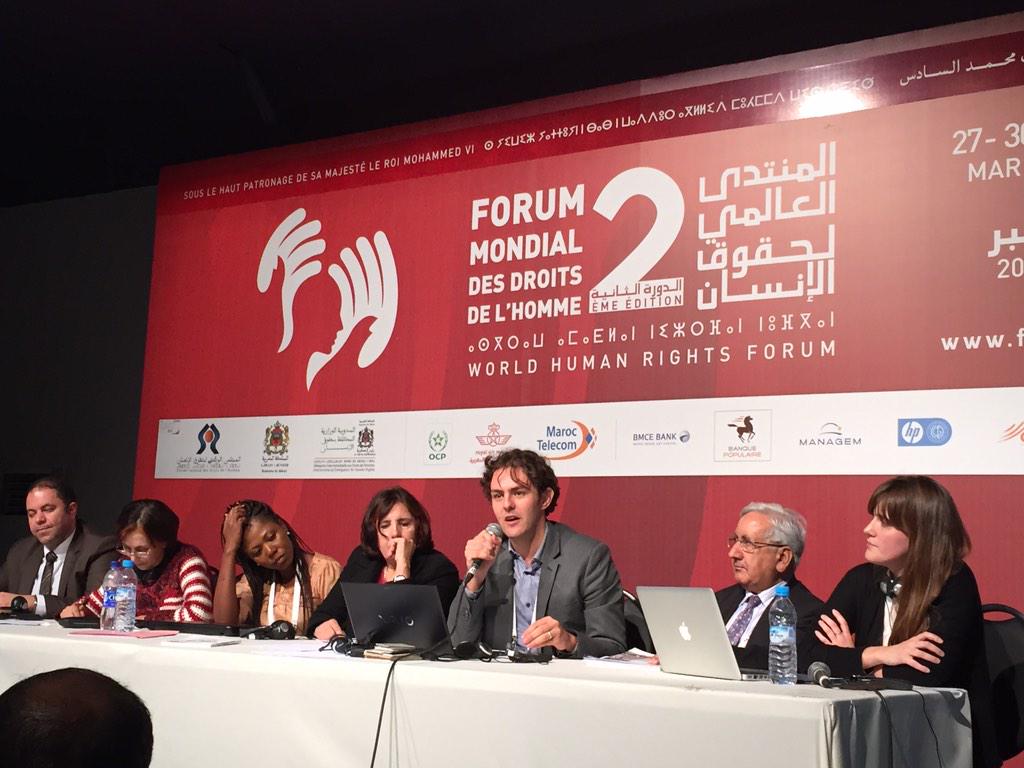 At the World Human Rights Forum in Marrakech, civil society issued a joint statement to the African Development Bank (AfDB), the Economic Commission for Africa (ECA), the African Union Commission (AUC), and the United Nations Development Programme (UNDP) in response to their recent report that called for "a liberal and attractive regulatory framework that is conducive to profitable returns on investment" in education.
MDG Report 2014: Assessing Progress in Africa Toward the Millennium Development Goals, released in November, discusses progress on the Millennium Development Goals (MDGs) in Africa and makes recommendations on how to accelerate efforts toward them. The report is also significant for shaping the post-2015 development agenda, particularly in Africa.
On Friday at the World Human Rights Forum in Marrakech, civil society expressed its concerns about how the report and its institutional authors emphasize private sector involvement in education. The report calls for, among other things, the establishment of "a liberal and attractive regulatory framework that is conducive to profitable returns on investment" in education.
In response, civil society issued a statement supported by more than 60 organizations, many of which are based in Africa, highlighting the danger that such an approach poses. The encouragement of private sector profiteering of education, as pointed out by the civil society statement, not only threatens the progress that has been made by the elimination of school fees but also represents a potential violation of international law, which places the provision of education as a government obligation. The emphasis on privatization undermines the importance of public investment in education and the nature of education as a public good. Moreover, fee-charging, profit-driven education models are known to have discriminatory effects that reinforce segregation and inequalities.
Civil society is demanding that the AfDB, ECA, AUC, and UNDP withdraw the report and make recommendations that are appropriately aligned with UN human rights obligations.
The statement was submitted by the African Network Campaign on Education for All (ANCEFA), Education International (EI) ActionAid, and the Global Initiative for Economic, Social and Cultural Rights (GI-ESCR) and was signed by:
African Resources Watch (AFREWATCH)
Alliance2015
Alphabétisation et Développement (Alpha Dev)
Arab Campaign for Education for All (ACEA)
Argentinian Campaign for the Right to Education (CADE
Asia South Pacific Association for Basic and Adult Education (ASPBAE)
ASO-EPT Niger
Association Nationale pour l'Alphébétisation, Senegal (ANAFA)
ATTAC/CADTM Maroc
Basic Education Network Ethiopia
Botswana Coalition for Education for All
Buliisa Initiative for Rural Development organisation (BIRUDO)
Burundi Coalition for Education For All
Cameroon Education for All Network (CEFAN)
Carrefour de la famille marocaine
Centre du Commerce International pour le Développement, CECIDE, Guinée (CECIDE)
Centre for Social Impact Studies (CeSIS)
Centre national de coopération au développement, CNCD-11.11.11, Belgium
Civil Society Action Coalition on Education for All
Civil Society Action Coalition on Education for All (CSACEFA)
Civil Society Education Coalition, Malawi (CSEC),
Coalition des Organisations en Synergie pour la Défense de l'Education Publique, Senegal (COSYDEP)
Coalition des organisations Mauritaniennes pour l'Education (COMEDUC)
Coalition Marocaine pour l'Education Pour tous (CMEPT)
Coalition National EPT-Burkina-Faso
Coalition Pour l'Education Pour Tous Bafashebique, Burundi
Collectif National de l'Education Alternative et Populaire, Senegal (CNEAP)
Committee for Peace and Development Advocacy (COPDA) – Liberia
Confédération des syndicats autonomes, Senegal (CSA)
Conseil Régional des Organisations Non Gouvernementales de Développement
Consulenti, orientatori, formatori in rete, Italia (Cofir)
Education Coalition of South Africa, South Africa(ECSA)
Education For All Network, The Gambia
Equal Education Law Centre, South Africa (EELC)
EqualEducation, South Africa
Fédération Nationale des Associations de Parents d'Elèves au Maroc (FNAPEM)
Fédération Nationale des Associations de Parents d'Eleves et d'Edudiants, Senegal (FENAPES)
Forum for Education NGO's in Uganda (FENU)
Foundation For Environmental Right, Advocacy & Development, Nigeria (FENRAD)
Foundation for the Conservation of the Earth (FOCONE)
Ghana National Education Campaign Coalition (GNECC)
Global Campaign for Education (GCE)
Global Network for Good Governance(GNGG Cameroon)
Global Rights, Nigeria
Groupe Pivot Education de Base, Mali
IBIS
Inclusive Development International
Initiative for Social and Economic Rights (ISER)
Jamaa Resource Initiatives, Kenya
Kosovo Civil Society Consortium for Sustainable Development (KOSID)
Lumière Synergie pour le Développement
Maison des Mines du Kivu (MMKi)
Mouvement Anfass Démocratique, Morocco
Organisation Démocratique de l'Enseignement, Morocco (ODT)
Oxfam
Peace Point Action (PPA)
PREMICONGO
Privatisation in Education Research Initiative (PERI)
Public Interest Law Center, Chad (PILC)
RESULTS
Right to Education Forum, India
Right to Education Project (RTE)
Section27, South Africa
Syndicat Unique et Démocratique du Sénégal (SUDES)
Tanzania Education Network/Mtandao wa Elimu Tanzania (TEN/MET)
Wacam, Ghana
Zambia National Education Coalition
For more information and the complete press statement, visit here.